Information from the internet
信息来自网络
WeChat has recently introduced a few tricks and added several new features to make the platform more user-friendly and closer to life.
What are they?
微信最近频出小动作,新增了几个功能,让微信变得更加人性化,贴近生活。具体都有哪些呢?

Hongkong MTR now accepts WeChat payment
香港地铁可用微信直接支付车票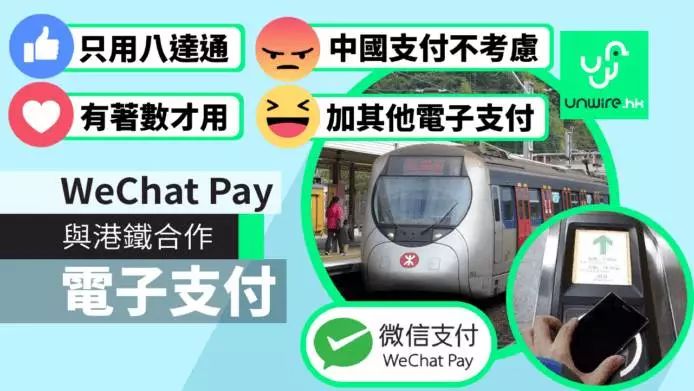 Image source: unwire.hk
图片来源:unwire.hk
On November 23rd, Tencent Inc and Hong Kong Railway Corporation Ltd. formally signed a cooperation agreement. The two sides cooperate on WeChat mobile payment and WeChat Pay HK (Hong Kong version WeChat payment) in MTR's mobile payment business.
11月23日,腾讯公司与香港铁路有限公司正式签署合作协议,双方就微信支付和WeChat Pay HK(港版微信支付)在港铁的移动支付业务展开合作。
Both Hong Kong native and mainland people who are travelling to Hongkong can directly use WeChat to buy subway tickets. This saves the trouble of finding small change, and there's not need to exchange money to buy a subway ticket anymore.
不管是香港本地人,还是到香港游玩或出差的内地人,都可以直接使用微信支付,购买地铁票,省去了找零钱的麻烦,也不需要兑换货币来买地铁票了。
How to calculate the exchange rate?
如何计算汇率?

Under the agreement, mainland tourists using WeChat to Pay will be automatically converted according to the exchange rate of direct purchase, without having to convert to the Hong Kong dollar.
根据协议,内地游客使用微信支付,将自动根据汇率转化直接购票,无需兑换港币。
Hong Kong users can directly pay with WeChat Pay HK.
香港居民则可以通过WeChat Pay HK直接用港币支付。

- - - - - - - - - - - - -
WeChat for IOS: Chat record date reminder setting
IOS版微信:聊天记录设置日期提醒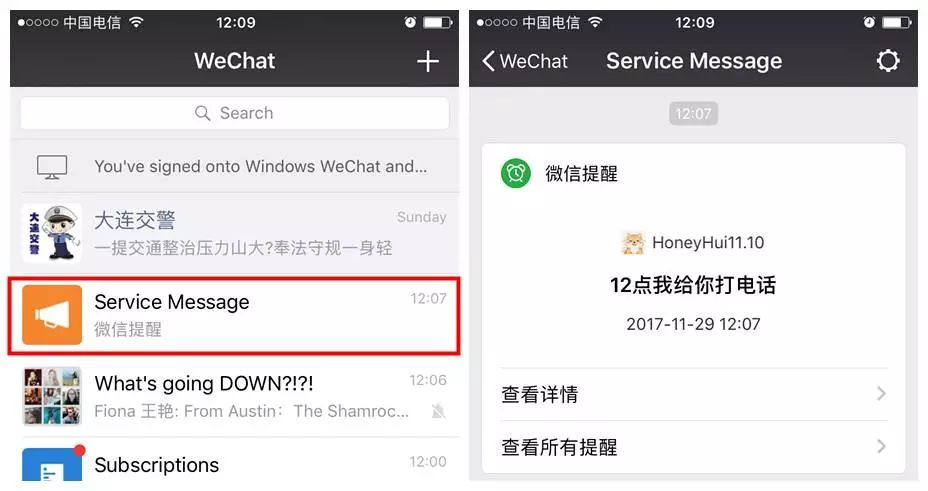 IOS WeChat latest version of the new chat settings to set reminder date is very user-friendly, clever use of this function will bring a lot of convenience.
IOS微信最新版本,新增的聊天记录设置日期提醒功能,十分人性化,巧用这个功能会带来不少便捷。
Instructions
使用方法
Long press the message that you need to be reminder about, select "Reminders", set up the "reminding" time.
长按需要设置提醒的消息,选择【提醒】,设置好提醒时间(目前只能设置整点提醒);
When the time is set, WeChat will automatically push the reminder.
到设置时间,微信会自动推送提醒;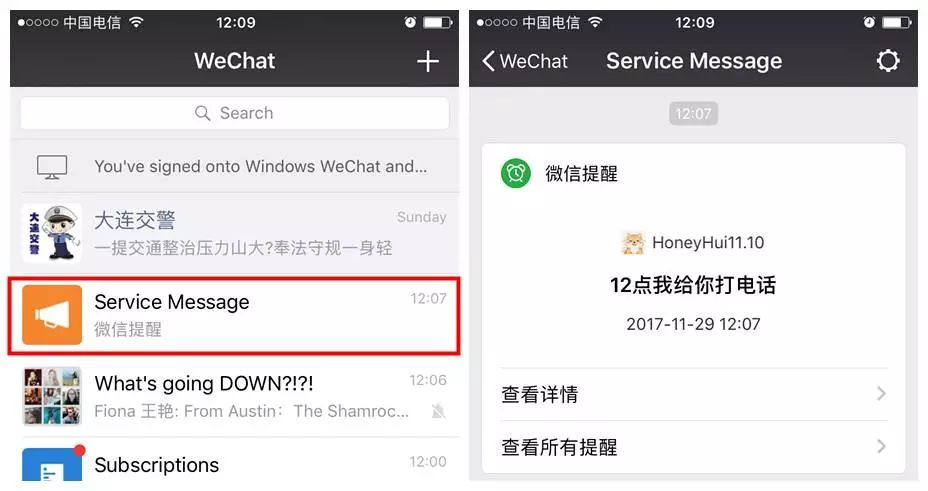 This function is for trivial white-collar workers; after receiving a task arrangement, a reminder can be set up immediately, so you won't forget any works your boss has assigned you to do. You also don't need to download more than one reminder APP in order to remind you about appointments and important meetings. Using this feature, your life will be easier and your phone will run faster.
这一功能,对于事情琐碎的白领来说,收到任务安排后,马上设置一项提醒,你便不会忘记老板吩咐的多项工作了。也不需要再下载多个记事提醒类App,约会,开会提醒,让你变得有条不紊。
- - - - - - - - - - - - -
WeChat Mini Program: WiFi一键连 (WiFi--Yī Jiàn Lián)
微信小程序:WiFi一键连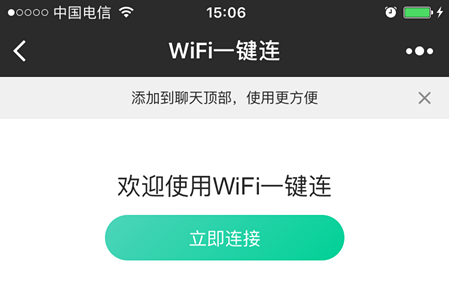 This feature is applicable to both Android and IOS versions of WeChat.
Sometimes ,when you're outside, you might need to connect to the WiFi. While most places in Dalian provide WiFi connection, some of them require you to have some certain APP on your phone in order to make a connection. This is, no doubt, irritable, especially when you don't have that much space left on your phone. The good news is, you can now WiFi一键连 (WiFi--Yī Jiàn Lián) to exempt yourself from downloading the suggested APP.
安卓、IOS版微信都适用。出门在外,紧急情况需要用到WiFi,那么这个微信小程序会帮到你,无需下载其他App,关注【WiFi一键连】即可。
Instructions
使用方法
Go to WeChat Mini Programs, search for WiFi一键连.
点击微信小程序,搜索【WiFi一键连】;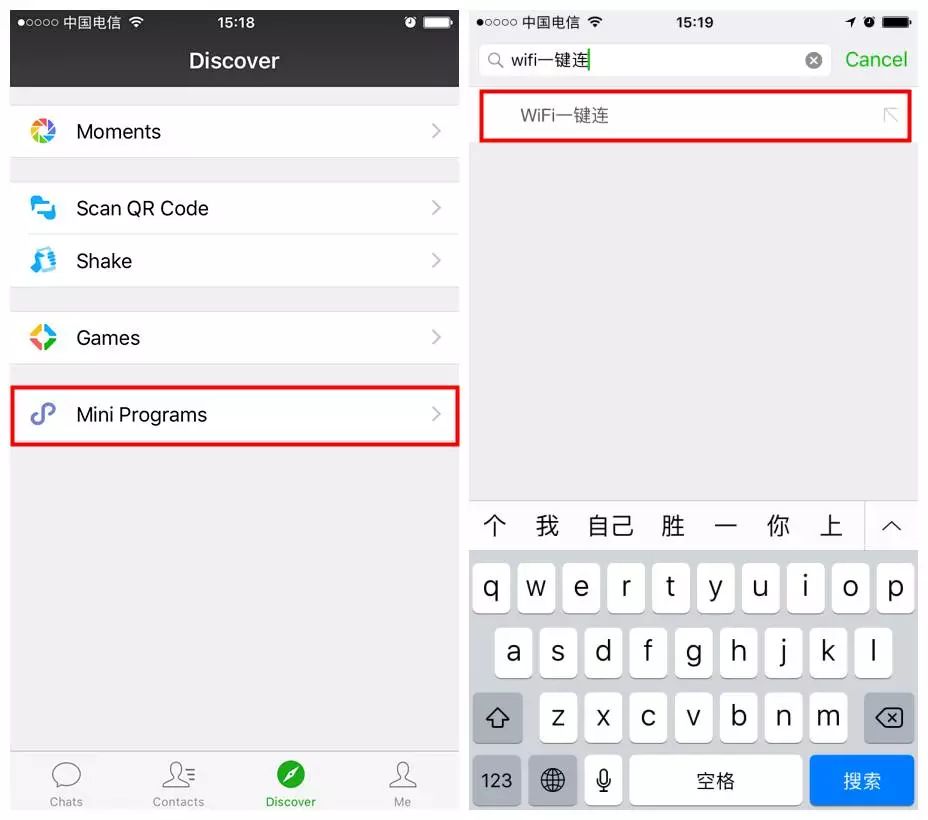 Click "立即连接 (connect immediately)", and then click "看懂了,去连接 (I understand and wish to proceed)"
点击【立即连接】,再点击【看懂了,去连接】;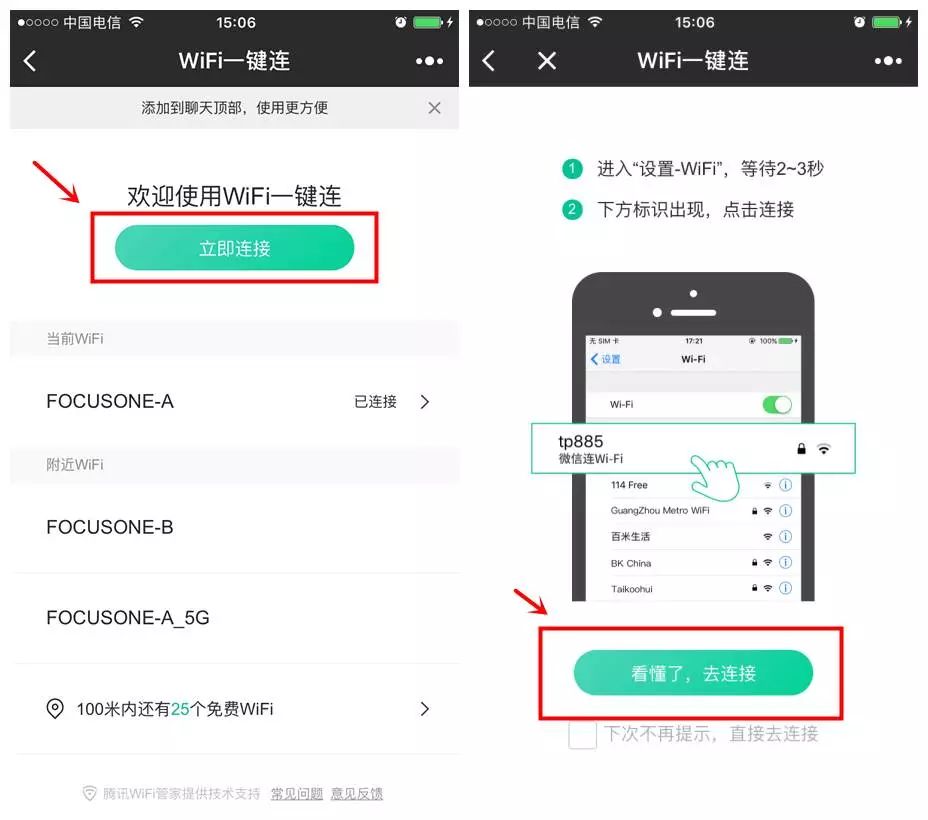 After the connecting option selected, it will jump to the phone WiFi settings page. Select the network labeled "Wi-Fi via WeChat", and you can now connect directly to the WiFi.
点击连接后,会跳转至手机WiFi设置页面,选择标有【微信连WiFi】的网络,就可以直接连接了。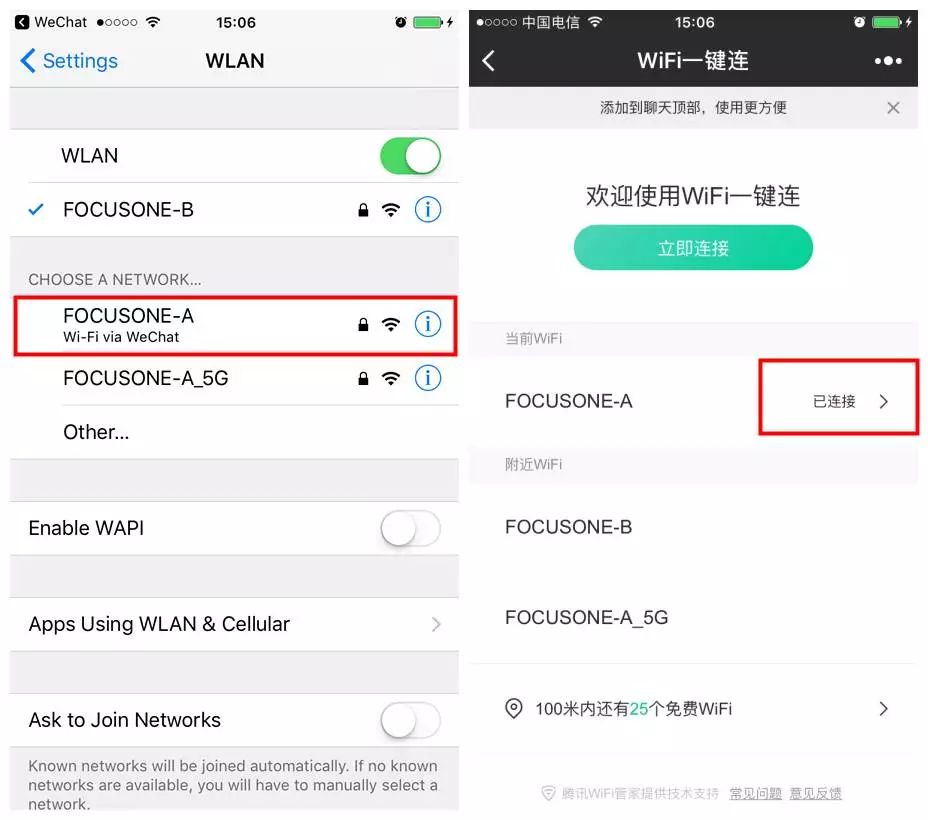 Note: Not all public WiFi are applicable, but in case of emergency, you can use this app to search available WiFi connections.
注:不是所有公用WiFi都适用的,紧急情况下,可以用这个小程序搜搜看。

- - - - - - - - - - - - -
WeChat "Transfer to Bank Card" function
微信新增:转账到银行卡
The latest version of WeChat has added "transfer to bank cards" function.
最新版本微信,新增【转账到银行卡】功能。

Instructions
使用方法
Go to "Money", select "Transfer to Bank Card", then input the required information.
点击【收付款】,再点击【转账到银行卡】,填写好收款人信息即可转账。
Note: using this feature will charge you 0.1% fee from the total transferred amount.
注:此功能,需要收取0.1%的手续费
- - - - - - - - - - - - -
WeChat "零钱理财 (Língqián Lǐcái)" function: Managing your small change
微信开通:零钱理财
This funtion is quite similar to Alipay's "Yu'E Bao"; it supports free use, can be used to pay, transfer and send red packets.
功能类似支付宝中的余额宝,支持随存随取,可以用来消费、转账、发红包。
Instructions
使用方法
Select the following in this particular order:
1. "Wallet"
2. "Balance"
3. "Enjoy earnings with Balance"
4. "我要赚取收益 (literally translated: I want to make profit)"
Then, input the amount of money you'd like to put in this activity, and at last tick "同意服务协议及风险提示 (I agree with service agreement and risk alert)" in order to proceed.

The next step is answering a series of questions regarding your income. Since the questions are in Chinese, you might as well want to ask a Chinese friend to help you answer correctly.
打开【钱包】-【零钱】,点击下方【零钱理财】,输入金额即可。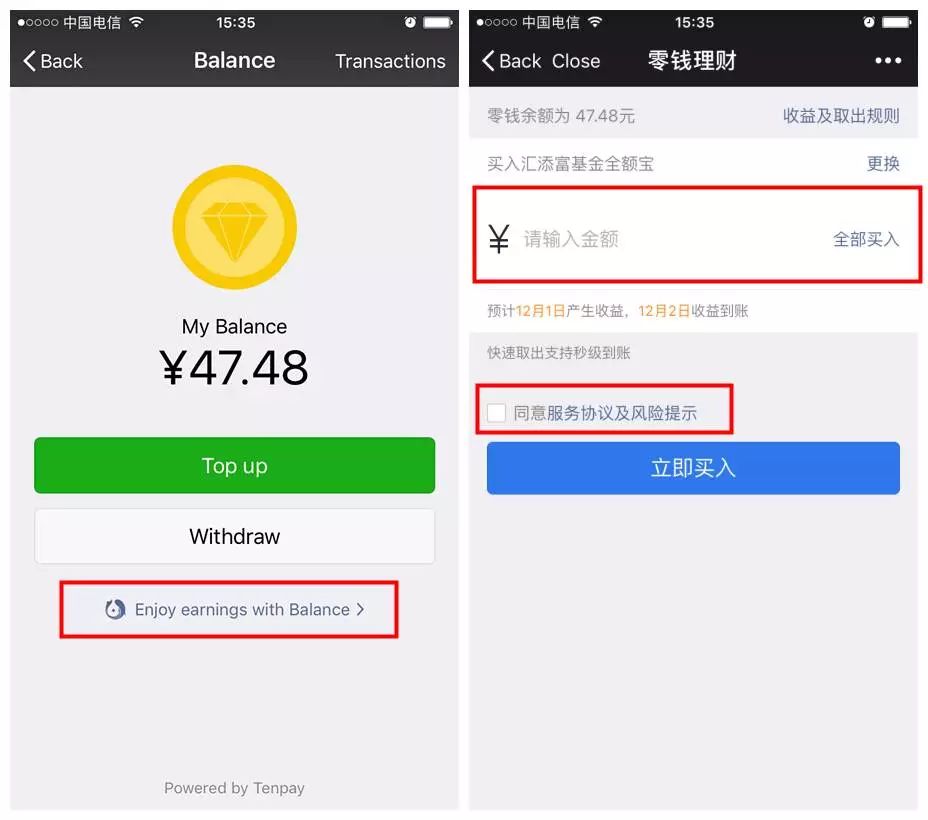 - - - - - - - - - - - - -
Here are more WeChat-related articles:
关于微信功能,往期文章介绍
Note: in order to open WeChat Wallet, you need to have a Chinese bank card
How to Make Wechat Wallet | 如何开通微信钱包

How to Buy Cinema Ticket through WeChat Wallet | 如何用微信买电影票
How to Transfer Money to Your Friend Through WeChat

WeChat's New Function to Avoid Wrong Money Transfer | 微信转账如何避免转错
How to Use WeChat to Translate Restaurant Menus
WeChat Hack: Sticky on Top Public Wechat
From March: WeChat will Charge for Withdrawal Fees