Content Exchange: Culturalbility文化力
After a dismal showing for movies in July, we're back in full force for August with six "foreign" choices. Not all of them are necessarily completely foreign as Hollywood starts reaching out to other countries for more funding.
Still a big fat NO for Spidey, Apes, and Dunkirk, though, but it appears all three will be in September. Finger guns crossed.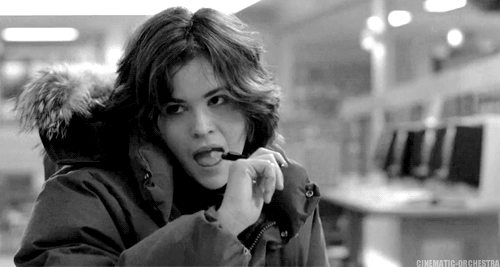 ---
Need help buying tickets?: How To Buy Movie Tickets On Wechat
**Remember, all movies are subject to change, so if you're planning a romantic candle-lit evening, it's always smart to double-check ahead of time. TIC.
---
We've got a fun array this month, with most weekends having a show or two to enjoy. Let us know at the end of the post which one you're most excited to see...
Friday, August 4, 2017
---
My Other Home
《我是马布里》
wǒ shì mǎ bù lǐ
Director: Larry Yang
Actors: Stephon Marbury, He Bing, Quincy Chad, Wu Chun
China Release Date: Friday, August 4, 2017
导演: 杨子
主演: 斯蒂芬·马布里 / 吴尊 / 何冰 / 郑秀妍 / 王庆祥
中国大陆上映日期: 2017-8-04(周五)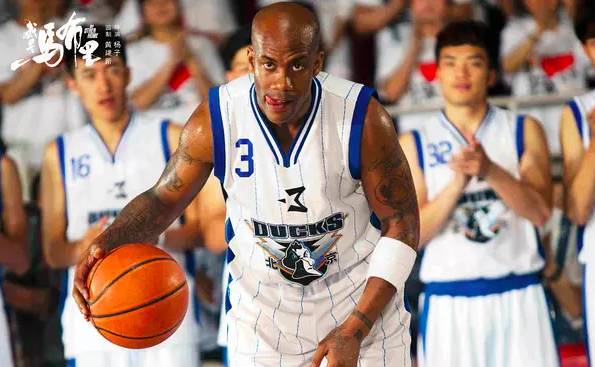 Beijing's favorite foreigner is now not only immortalized in stone, he'll be remembered in cellulose nitrate, as well. The story of Stephon Marbury's fall from the NBA and journeying to rediscover his passion in China is well-known here, but not so much around the world.
This part documentary part drama will look at the Brooklyn-born point guard's life since arriving in China, where he has helped the Beijing Ducks win three Chinese Basketball Association championships in four years and become one of the country's most popular foreign athletes.
It says it'll be in mixed Mandarin and English. We assume it's mostly in Mandarin.
影片根据真实故事改编。被称为"独狼"的NBA球星马布里事业陷入低谷,黯然隐退。在王牌经纪人李楠(吴尊 饰)的邀请和家人的鼓励下,马布里做出了人生中关键的决定——前往中国追寻自己的"篮球梦"。当坐在飞往中国的飞机上,背后却是他在NBA留下的辉煌和遗憾…重新焕发激情和热血的马布里,却没预想辗转到一支没落的球队,遭遇性格各异、士气低落的队友。在去留抉择间,他对意气相投的教练郑亚雷(何冰 饰)说出了唯一可以使自己留下来的条件——冠军。迎着所有人的质疑和不屑,带领着这支残兵野将的球队,两个拥有共同梦想的男人带领球队踏上了成功概率几乎为零的巅峰征程……
Trailer 预告片:(中文字幕)
Friday, August 11, 2017
---
The Adventurers
《侠盗联盟》
xiá dào lián méng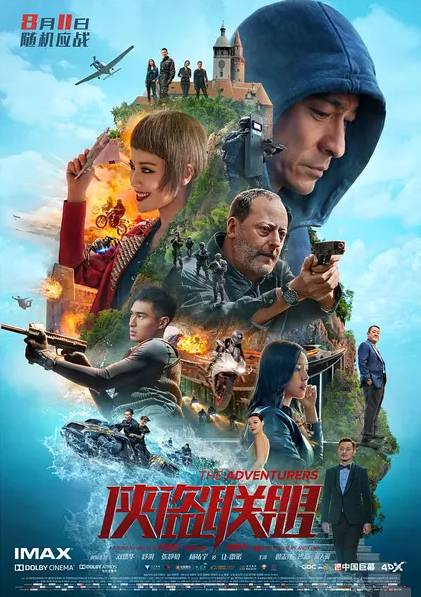 Director: Stephen Fung
Actors: Jean Reno, Qi Shu, Andy Lau
China Release Date: Friday, August 11, 2017
导演: 冯德伦
主演: 刘德华 / 舒淇 / 张静初 / 杨祐宁 / 让·雷诺
中国大陆上映日期: 2017-8-11(周五)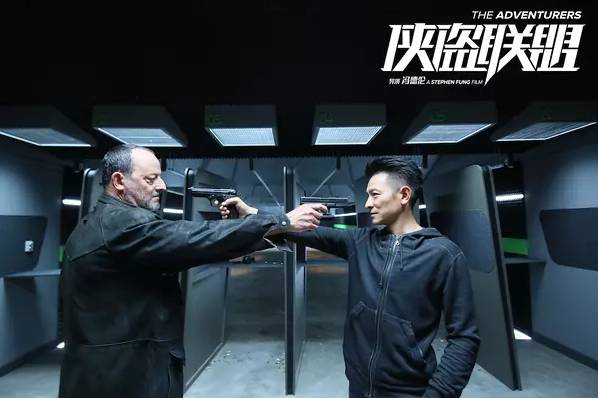 Barely qualifying as a "foreign" film, this one is produced jointly between France and Hong Kong. Starring the ubiquitous Andy Lau and Jean Reno, who are each somehow golden for Chinese movie-goers, expect a lot of action and blowing things up.
The Adventurers tells the story of an ex-con/thief Cheung Tan (Lau) who steals two priceless jewelries at the Cannes Film Festival under the watchful eyes of French detective Pierre (Reno). Great, another movie about movies.
From Cannes to Prague, a game of cat and mouse across Europe begins. After a series a close combat, Pierre was able to gradually grasp into Cheung's whereabouts. And as everyone are about to get close to the target, Cheung's true plan also gradually surfaces.
Appears to have both English and Mandarin versions, so check before ticket purchase.
江洋大盗张丹(刘德华 饰)在一次行动中遭遇黑吃黑,失手被擒入狱。三年后,出狱的张丹会合老搭档小宝(杨祐宁 饰),与新入伙的叶红(舒淇 饰)联手,在追捕自己多年的法国警探皮埃尔(让•雷诺 饰)眼皮底下盗窃得手。
小试身手之后,张丹找到宝物的买家——与自己情同父子的犯罪组织头目金刚(曾志伟 饰),二人重逢之后,张丹接到新的任务。与此同时,为将张丹一伙人捉拿归案,皮埃尔说服对张丹因爱生恨的前女友Amber(张静初 饰)加入追捕行动。
从戛纳到布拉格,跨越欧洲大陆的猫鼠游戏正激烈上演。几次短兵相接后,张丹的行踪逐渐被皮埃尔掌握。而随着一行人接近终极目标,张丹的真实计划也逐渐浮出水面……
Long press and Extract to View Trailer:

长按立即看看中文字幕的预告片
Friday, August 11, 2017
---
Earth: One Amazing Day
《地球:神奇的一天

》
dì qiú:shén qí de yī tiān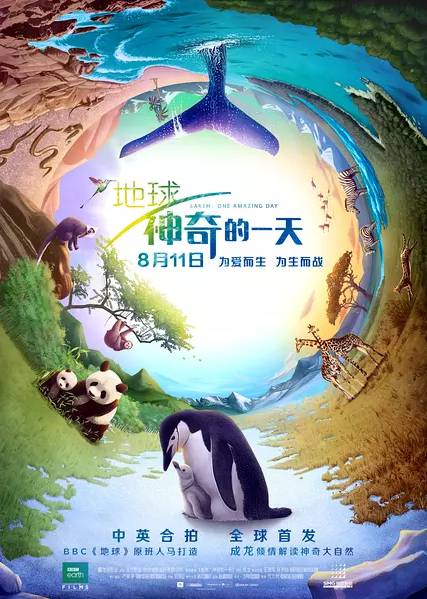 Directors: Richard Dale, Lixin Fan, Peter Webber
Actors: Robert Redford, Jackie Chan
China Release Date: Friday, August 11, 2017
导演: 理查德·戴尔 / 彼得·韦柏 / 范立欣
主演: 成龙 / 罗伯特·雷德福
中国大陆上映日期: 2017-8-11(周五)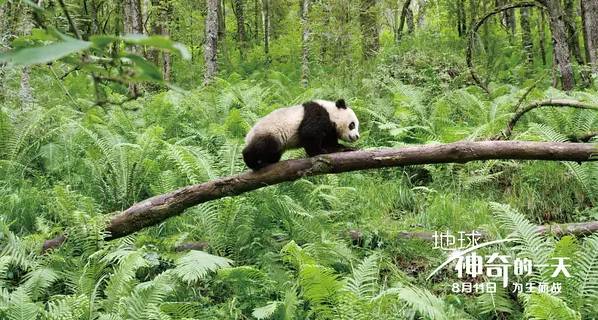 Uffda, two documentaries in one month. Yawn. Good thing we like learning about nature, right? Who needs Spider-Man when we can watch actual spiders!?
From BBC Earth Films, the studio that brought you Earth, comes the sequel - Earth: One Amazing Day, an astonishing journey revealing the awesome power of the natural world. Over the course of one single day, we track the sun from the highest mountains to the remotest islands to exotic jungles.
Breakthroughs in filmmaking technology bring you up close with a cast of unforgettable characters. Told with humour, intimacy and a jaw-dropping sense of cinematic splendour, Earth: One Amazing Day highlights how every day is filled with more wonders than you can possibly imagine- until now.
Narrated by Robert Redford in English and Jackie Chan in Chinese.
曾成功推出电影《地球》的BBC地球影业带来了令人期待已久的续集——《地球:神奇的一天》,一段揭示自然界惊人力量的神奇旅程。一天内,我们跟随太阳的脚步从世界上最高的山到最远的岛、从野外的丛林走到繁华的城市。由于在电影制作技术上取得的惊人突破,从而我们可以让你能与一群难忘的角色亲密接触;幼年的斑马宝宝想要穿过一条湍急的河流, 英勇的企鹅爸爸每天都要从事一项与大海以性命相搏的工作来抚养家人,一个喜欢在大海里垂直着打瞌睡的抹香鲸家族,还有走在寻找真爱路上的树懒。《地球:神奇的一天》用幽默、亲密、感性而令人惊叹的电影感来讲述地球上这充满你见所未见而无法想象的神奇的每一天。
Long press and Extract to View Trailer:

长按立即看看中文字幕的预告片
Friday, August 25, 2017
---
Baby Driver
《极盗车神》
jí dào chē shén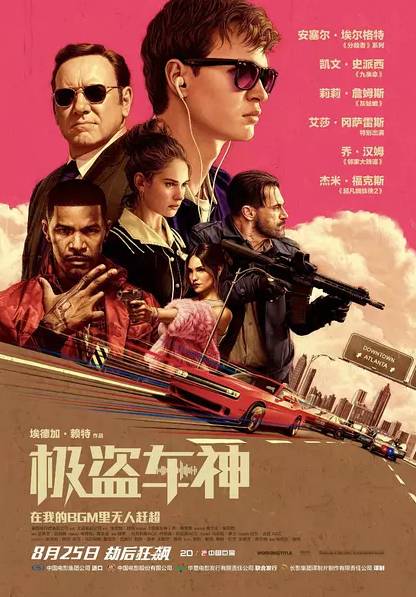 Director: Edgar Wright
Actors: Ansel Elgort, Jon Bernthal, Jon Hamm, Kevin Spacey, Jamie Foxx, Lily James
China Release Date: Friday, August 25, 2017
导演: 埃德加·赖特
主演: 安塞尔·艾尔高特 / 凯文·史派西 / 杰米·福克斯 / 乔·博恩瑟 / 乔恩·哈姆
中国大陆上映日期: 2017-8-25(周五)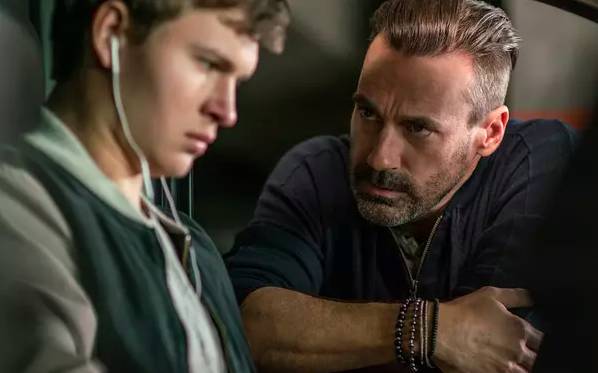 We're frankly surprised that such a critically acclaimed film is making its way to the mainland. But hey, we're not complaining. We just assume there'll be countless "edits" when it hits the big screens here.
Baby (Elgort) is a young and partially hearing impaired getaway driver who can make any wild move while in motion with the right track playing. It's a critical talent he needs to survive his indentured servitude to the crime boss, Doc (Spacey), who values his role in his meticulously planned robberies.
However, just when Baby thinks he is finally free and clear to have his own life with his new girlfriend, Deborah (James), Doc coerces him back for another job. Now saddled with a crew of thugs too violently unstable to keep to Doc's plans, Baby finds himself and everything he cares for in terrible danger. To survive and escape the coming maelstrom, it will take all of Baby's skill, wits and daring, but even on the best track, can he make it when life is forcing him to face the music?
A great director, cast, and story make this film the must-see of August.
由英伦鬼才导演埃德加·赖特执导编剧的《极盗车神》,讲述了关于天赋极高的犯罪团伙司机——名为"Baby"的年轻人的故事。Baby(安塞尔·艾尔高特 Ansel Elgort 饰)专门负责帮银行抢劫犯开车逃脱。Baby因童年的一场事故导致耳疾,要靠专属的音乐来掌控开车节奏。偶然的一次邂逅,他与餐厅女服务生(莉莉·詹姆斯 Lily James 饰)坠入爱河,并想就此金盆洗手。头目老大道哥(凯文·史派西 Kevin Spacey 饰)表示,只要Baby再完成最后一次任务,就可以给他自由。殊不知,巨大的危险和挑战在等待着Baby……
Trailer 预告片:(中文字幕)
Friday, August 25, 2017
---
Valérian and the City
of a Thousand Planets
《星际特工:千星之城》
xīng jì tè gōng:qiān xīng zhī chéng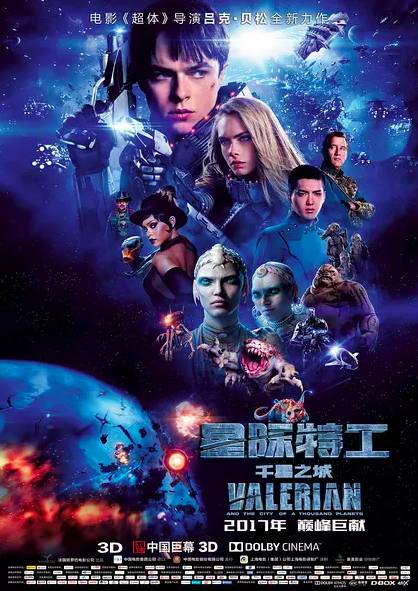 Director: Luc Besson
Actors: Dane DeHaan, Cara Delevingne, Clive Owen, Rihanna
China Release Date: Friday, August 25, 2017
导演: 吕克·贝松
主演: 戴恩·德哈恩 / 卡拉·迪瓦伊 / 克里夫·欧文 / 蕾哈娜 / 伊桑·霍克
中国大陆上映日期: 2017-8-25(周五)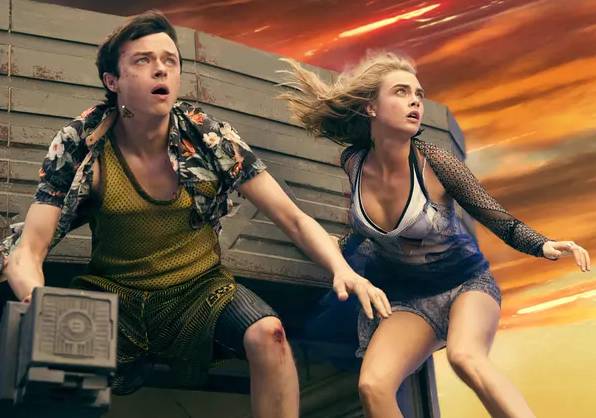 A dark force threatens Alpha, a vast metropolis and home to species from a thousand planets. Special operatives Valerian and Laureline must race to identify the marauding menace and safeguard not just Alpha, but the future of the universe.
And apparently Rihanna is in it? Just your run-of-the-mill comic book sci fi action flick. We might go see it.
故事设定在28世纪,人类发现了如何进行时空旅行。Valerian(戴恩·德哈恩 Dane DeHaan 饰)和Laureline(卡拉·迪瓦伊 Cara Delevingne 饰)是"时空服务"的特工,负责保护地球帝国的行星。他们像往常一样执行着星际任务,但在执行一次任务时,他们偶然发现了一个秘密,而他们也被卷入其中,越陷越深……
Long press and Extract to View Trailer:

长按立即看看中文字幕的预告片
Friday, August 25, 2017
---
Cars 3
《赛车总动员3》
sài chē zǒng dòng yuán sān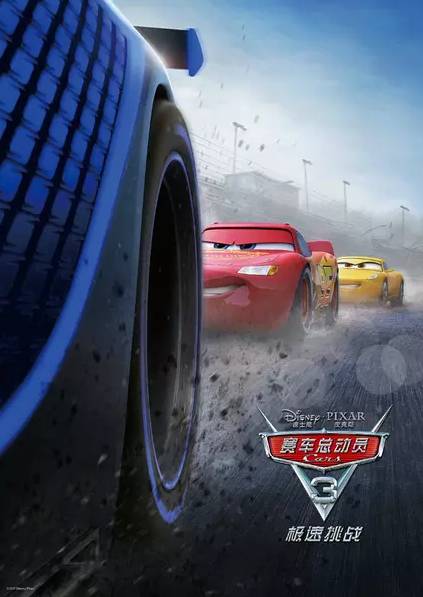 Director: Brian Fee
Actors: Owen Wilson, Cristela Alonzo, Chris Cooper, Nathan Fillion, Armie Hammer, Tony Shalhoub
China Release Date: Friday, August 25, 2017
导演: 布莱恩·飞
主演: 阿米·汉莫 / 内森·菲利安 / 欧文·威尔逊 / 凯丽·华盛顿 / 邦尼·亨特
中国大陆上映日期: 2017-8-25(周五)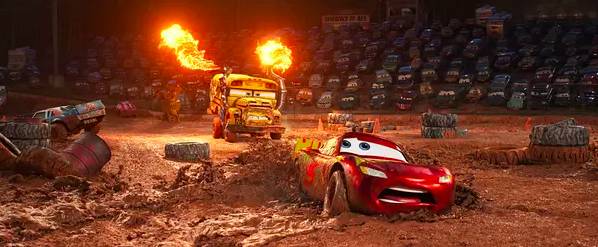 After publishing this movie in our June listings, the powers that be decided to postpone this innocent cartoon a month and then over two months from original release. Hope not too many of you were stranded at the theater that day. Our sincerest apologies.
Blindsided by a new generation of blazing-fast racers, the legendary Lightning McQueen is suddenly pushed out of the sport he loves. To get back in the game, he will need the help of an eager young race technician with her own plan to win, inspiration from the late Fabulous Hudson Hornet, and a few unexpected turns. Proving that #95 isn't through yet will test the heart of a champion on Piston Cup Racing's biggest stage!
The kiddos will love it.
讲述世界冠军闪电麦坤已成为当代车坛的传奇人物,曾五次夺得活塞杯冠军。但车坛风云突变,新车辈出,这让闪电麦坤的优势受到巨大威胁,更可怕的是,麦坤的自信也日渐瓦解。为了重返巅峰,闪电麦坤背水一战,但他对竞速的热爱,能为其回归之战注满能量吗?而除了麦坤外,影片中还有两位关键角色——酷姐拉米雷兹与黑风暴杰克逊。前者是一个阳光但严厉的赛车技师,将帮助麦坤重回巅峰;后者造型酷炫、速度奇快无比,是新一代赛车中的领跑者,也是麦坤最大的竞争对手。
Trailer 预告片:(中文字幕)
The content of this subscription account is similar to us, it also serves foreigners.
I'm sharing the QR code to you.
👇👇👇