China's State Administration of Foreign Experts Affairs has recently announced that, effective February 28th, 2018, all foreigners are required to submit their application for work permit renewal 1 month prior to the expiration of their permits.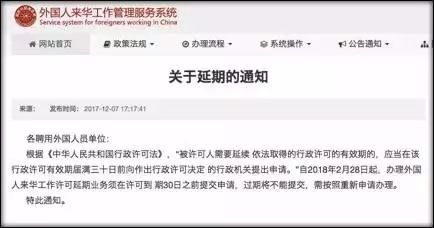 Those who fail to comply with this new regulation will be denied of renewal and shall start a new application for work permit, which will require authenticated diploma and police clearance among other necessary documents based on the policies implemented effective on April 1st, 2017.
Please note that this announcement applies to any city in China.
Under the new regulation, since applying for a work permit extension a few days prior to the expiry date absolutely cannot work anymore, every applicant should pay more attention to their work permit expiration date. It is suggested to apply for the extension 2-3 months before the work permit expires.